This season's most sought-after sneaker is the Balenciaga Triple S. From the fashion weeks of Paris, Milan and Seoul, to Migos, to A$AP Rocky in the pages of GQ, the Triple S is massive, ugly, and inescapable.
The Triple S sells out immediately online, so it's fool's errand to even attempt to find them on the primary market. As of publication, only Balenciaga.com had inventory in stock - if you can call two pairs in size 14 "inventory in stock" - and even used pairs of the Triple S consistently sell for hundreds of dollars over retail on sites like eBay, StockX and Grailed.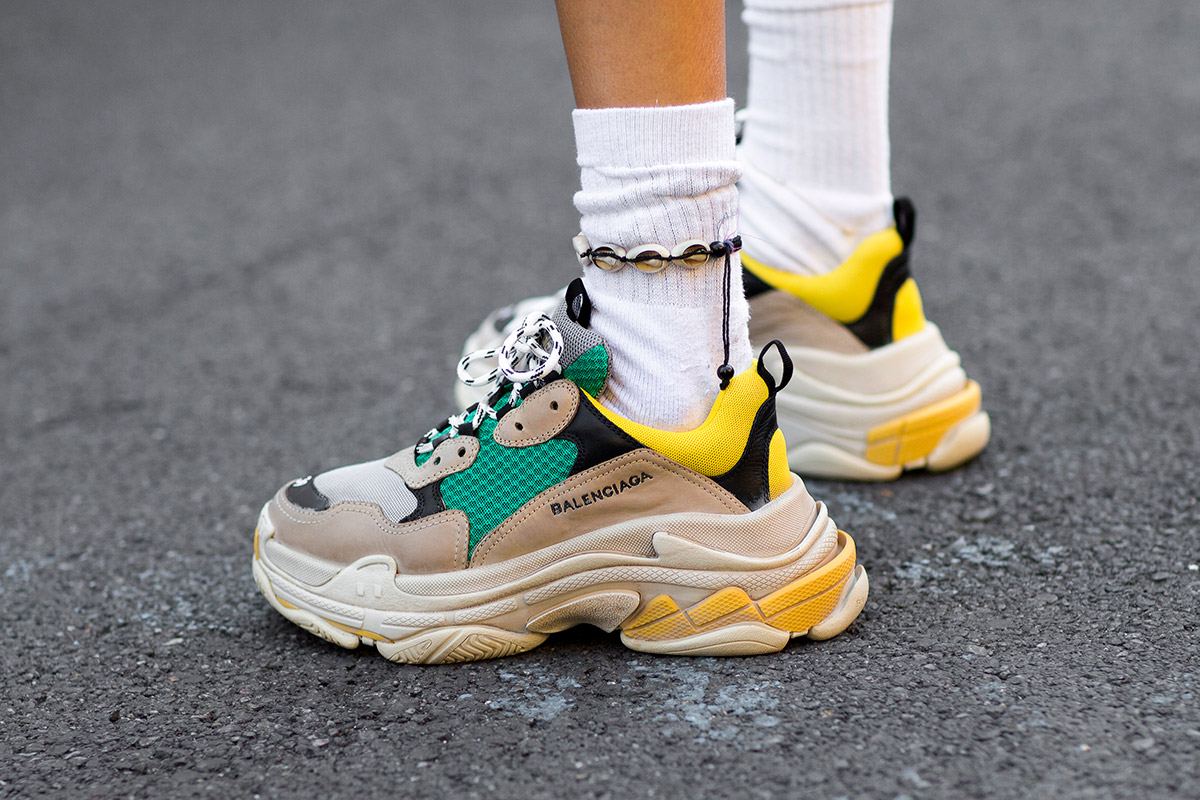 To understand how the fashion and sneaker world got to the point where an $800 MSRP shoe that looks like the machinery responsible for molding its rubber malfunctioned during production became the holy grail of footwear, we need to step back for context.
Keeping the two worlds distinct and focusing only on sneakers to start, the Triple S represents one of the first fully-formed crossovers between high fashion and streetwear. In years past, the hottest kicks were limited edition releases from the likes of Nike, Jordan, Adidas and Reebok; in Complex's 50 Best Sneakers of 2013 list the first whiff of a high fashion brand comes at #35, a Margiela x Converse Jack Purcell release that, while interesting at the time, hasn't had much in the way of cultural staying power. Over the past decade or so, rap and hip-hop became the dominant cultural force in America; cultural reference points became people like Kanye West, synonymous early on in his career with BAPE and pink Polos, who then introduced the masses to leather kilts and Margiela face masks, and ultimately released his own YEEZY clothing line, and A$AP Rocky, who transitioned from Commes des FUCKDOWN to Hood By Air to Raf Simons, Gucci and Dior Homme, who made traditional high fashion houses aspirational for a new generation. Wanting to attain the levels of cache and influence of these icons now meant trading in legacy streetwear brands, or the hottest here today gone tomorrow t shirt company, for luxury houses like LVMH and Balenciaga.
On the fashion side, a shoe like the Triple S would not exist without society's dramatic shift to all things casual. Whether Millennials are to blame, with stifled career options, student debt and a questionable economic future causing an inability to "grow up," or Silicon Valley with its anti-suit, flip flops and hoodies dress code, or a world generally more defined by fear and uncertainty, fashion's pendulum has swung away from the corporate and back to the comfortable. From Normcore, to Dad Bod, to the acceptability of yoga pants in boardrooms to bakeries, this push back against rigidity is the basis for the inherent ugliness of the Triple S. When brands make conscious decisions to release items that defy traditional definitions of beauty, shoes like these from Balenciaga are the output.
So now we find ourselves at the beginning of 2017. Fashion in general is reaching perhaps the apex of its reversal from the #menswear, skinny tailored years, and the hottest designer in the world, Demna Gvasalia, now oversees Balenciaga. Rappers and hip-hop artists are brightest stars of the streetwear influencer world, and over the past five years have made high fashion brands the lingua franca of global trendsetters. The powder keg had been lit for a high fashion sneaker to explode, so when Balenciaga announced the Triple S in all its absurdist, ugly glory, the powder keg detonated.
Since you won't be able to get your hands on a pair of the Triple S any time soon, listed below (alphabetically by brand) are 11 alternatives. No thin or moderate sole candidates needed apply, these selections were chosen for their intentionally oversized appearances or strange silhouettes, lacks of traditional sleekness, and general, "If you wore them would people look at you a little weird but also maybe with a little envy?" vibes.
Combining elements of the Triple S with the next hottest footwear trend, sock sneakers, this collab between Boris Bidjan Saberi and Salomon has a distressed rubber sole and traditional laces covered by a zip-up vamp.
The Sofiane - cotton candy stuffed in to a sleeping bag stuffed in to a shoe - is a playful alternative to the Triple S. With asymmetric side lacing and padding all around Acne's offering is a fun take amongst aggressive silhouettes.
An updated take on the SEEULATER boot from the 90s, this Adidas mid top model combines a knit upper with an accentuated trail-ready sole. If you want the sole of the Triple S at the lightest weight possible, these should be your go to pair.
If the Triple S was inspired by Raf Simons' more popular Adidas collab model, the Ozweego, the New Runner identifies then distills down the most distinct feature of the Triple S, its chunky sole, then fuses than oversized sole to a minimalist, sleek, Converse-esque upper. It's as Raf is saying, "You want sole? Well here you go."
Even the most dedicated sneakerhead occasionally finds himself in a situation where sneakers are inappropriate. For these situations big thanks to Clarks for their Oswyn Lo model, which saves a bit of that Triple S stacked sole spice and pairs it with a clean, white leather upper for a modern classic.
The most visually similar to the Triple S of this list, the monotone suede of the Angel tricks the eye with an understated first impression but the enormous sole and metal lace loops kick up the aggression to 11. For the most serious Triple S heads only.
Perhaps more closely related to Rick Owens' traditional offerings than the Triple S, this side-laced joint has a tonal elastic strap on top for easy on/off maneuvering and looks like a traditional shell toe sneaker on some serious steroids.
Probably the only pair of shoes on this list that you'd feel good about wearing in the rain, this sneaker boot is part galoshes, part Chelsea boot, part Nazi-stomper and one hundred percent not for the sartorial feint of heart.
Reebok's InstaPump Fury is available in a variety of colorways at numerous price points. The Chinese New Year edition, seen here with its Year of the Rooster homage feathered-effect leather upper and gum sole, is a standout.
We chose these collaborative sneakers over similar runners from Our Legacy and ETQ Amsterdam because of its leather and suede contrasting upper and oblong eyelets.
Y-3 was in the nontraditional, chunky shoe game long before Balenciaga's 2017 smash; and although Yohji's offerings trend toward futuristic, this Ryo model looks right at home positioned between the Triple S and the Speed Runner at only half the cost.