Keys. Phone or music player. One other thing. That's pretty much the standard, agreed-upon minimum that society has come to when we talk about what you carry when working out.
And while the varieties of ways we move our bodies to keep them healthy has evolved, the shorts we wear while exercising don't look that different from what Forrest Gump wore on his fictional trek across America.
So, to walk our way through the recent history, if we begin with when jogging became a thing in the 1970's, America has seen: Jazzercise, aerobics, home gym equipment (remember Bowflex? or the NordicTrack?), TaeBo, spinning, CrossFit, and now Barre workouts and SoulCycle, all in the last 30 or so years. Not to mention the ascendance of yoga and pilates, or other niche activities like rock climbing, Tough Mudder and its spawn of group endurance races, triathlons, indoor bootcamps, outdoor bootcamps, and even 7 Minute Abs (but never 6 Minute Abs).
The motions that our bodies go through to live longer, lose weight, or build muscle have changed dramatically - no one questions this - and in some ways the gear that clothes or protect our us has evolved commensurately. The goalie mask in hockey, the evolution of women's workout attire from short sleeve sweaters to yoga pants, the release of Nike's first Waffle Trainer in 1974, the founding of Under Armour in 1996, or the fact that we're now on the twenty-fourth iteration of the Asics GEL-Kayano all point to measurable progress in athletic apparel.
Why then, with all of this advancing, and with companies dumping more and more money in to clothes you can wear to the gym then out to brunch (or just out to brunch and never to the gym but people think you went to the gym so only you know how lazy you are)... why is there only one pair of perfect athletic shorts?
The Spring/Summer 2015 Nike x Undercover Gyakusou Running Shorts. That's the list. The beginning, middle, and end. That's it.
Creating shorts that work for the modern day athlete shouldn't be that hard, but think about it - 90% of the running or tennis shorts on the market have two, non-zipper side pockets. The next 9.999% either have no pockets, or add maybe one small little internal pocket for a key, or one zipper pocket in the rear for a key+your ID. But none of these designs get to solving the two fundamental flaws in workout shorts:
Almost everyone listens to music while working out, and the vast majority of music is played through your phone, and if you drop or lose your phone that's $1,000 gone, so
Unless the only workouts you do are upper body only or some sort of slow walk carrying dumbbells(?) your legs are going to move around, and whatever is in your pockets is going to fall out.
Lying on a decline bench press? Guaranteed that anything that's in your pocket is sliding out.
Doing a headstand in yoga class? Boom, gravity.
Cycling or running at a good pace? Whatever's in your pockets is bouncing around like a kid in a fun house and whoops - next thing you know it's $130 bucks at the Apple Store for a new screen.
Want to throw your credit card in your pocket to stop for a smoothie after your run? No, you don't, because there's a 50/50 chance that card ends up lost at mile two and by the time you get home you bought three TVs from Best Buy with international shipping and it's time for a call to Chase bank.
So, back to those SS15 Nike Gyakusou shorts. Long since sold out, and designed in collaboration with Jun Takahashi, the fashion designer behind Japanese brand Undercover, these shorts finally solved the pocket problem. Beyond being incredibly lightweight and comfortable, they have two front facing, U-shaped pockets - both zippered. But like the infomercials say, "But wait, there's more!" On the rear, just below the waist band, are two more smaller pockets - perfect for keys, an ID, a credit card or anything you can fit in your palm - that are also zippered! The fact that they're placed as high as possible on the shorts and directly below the waistband means that there is almost zero bounce for the items in these pockets because they're held tightly directly next to the body. And we still haven't yet mentioned the pièce de résistance: the fifth and sixth pockets, located on each hip, designed perfectly to hold anything the size of, say, a modern day iPhone. The fabric closure over the tops of each pocket means that your phone is held securely in place while also not exposing the glass to any zipper closures. Genius.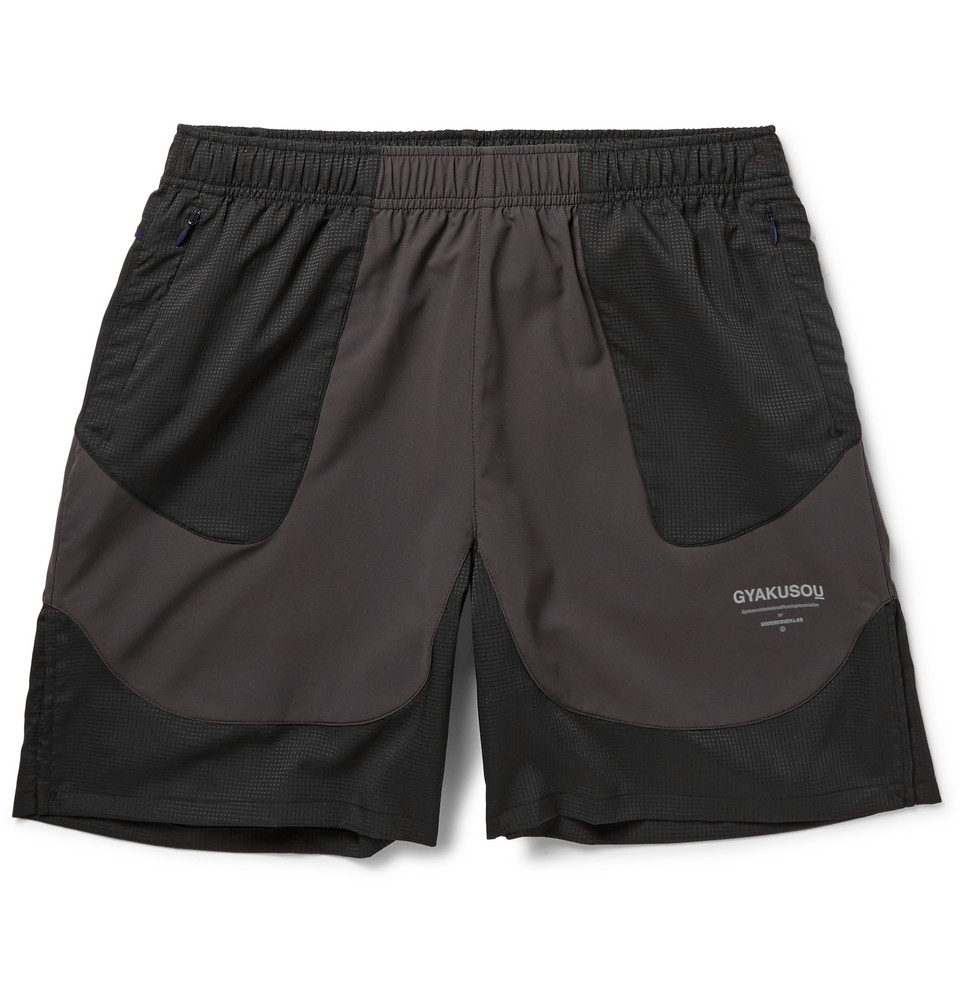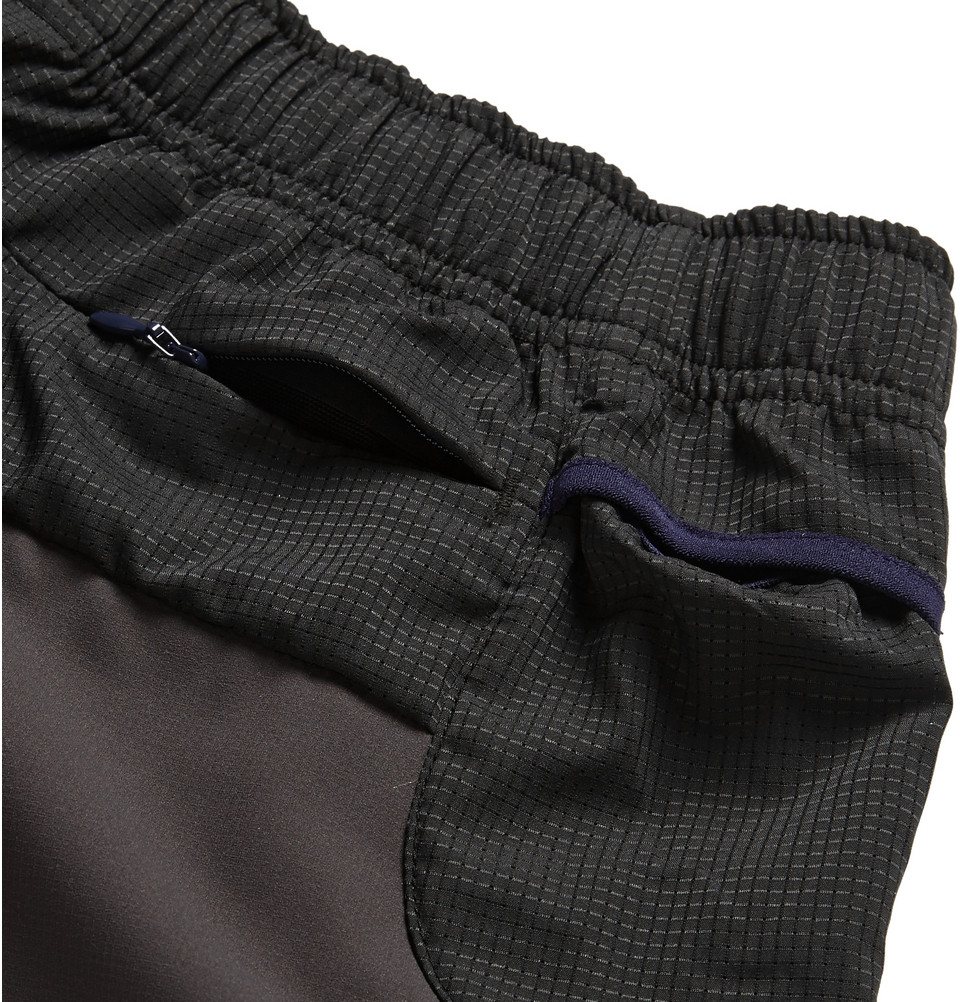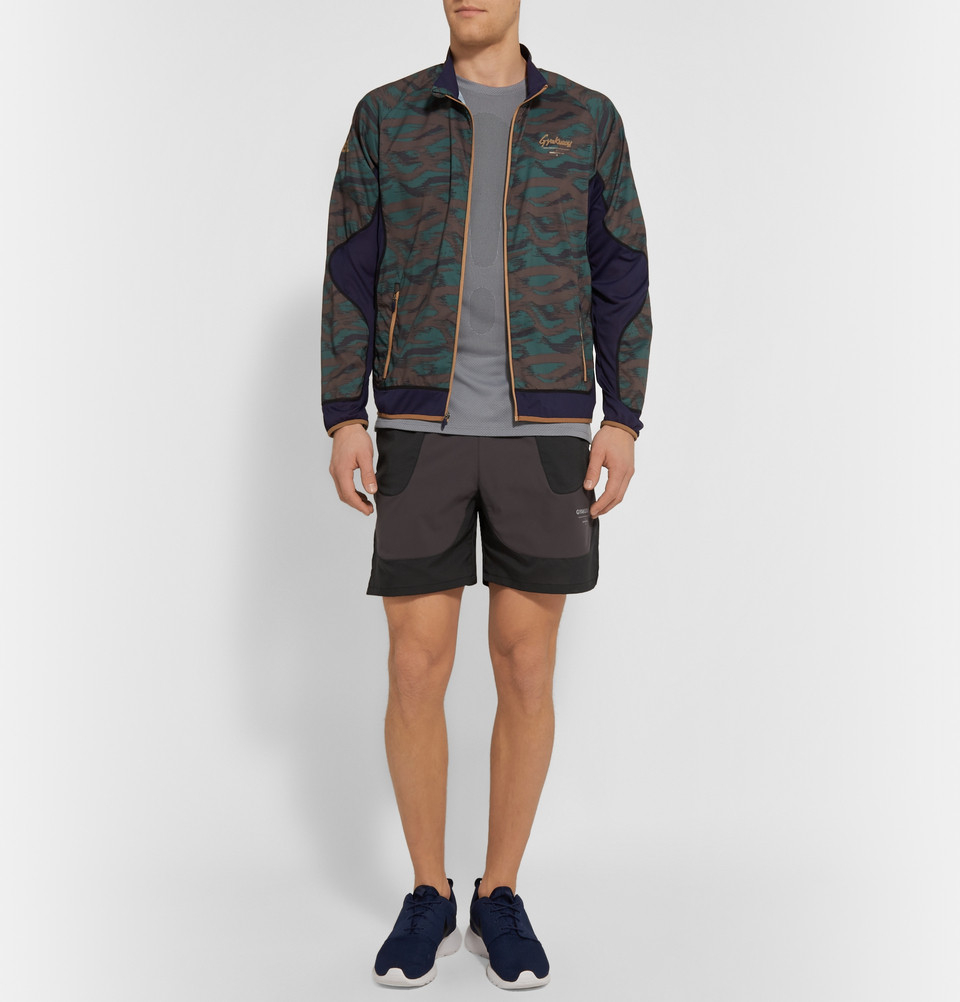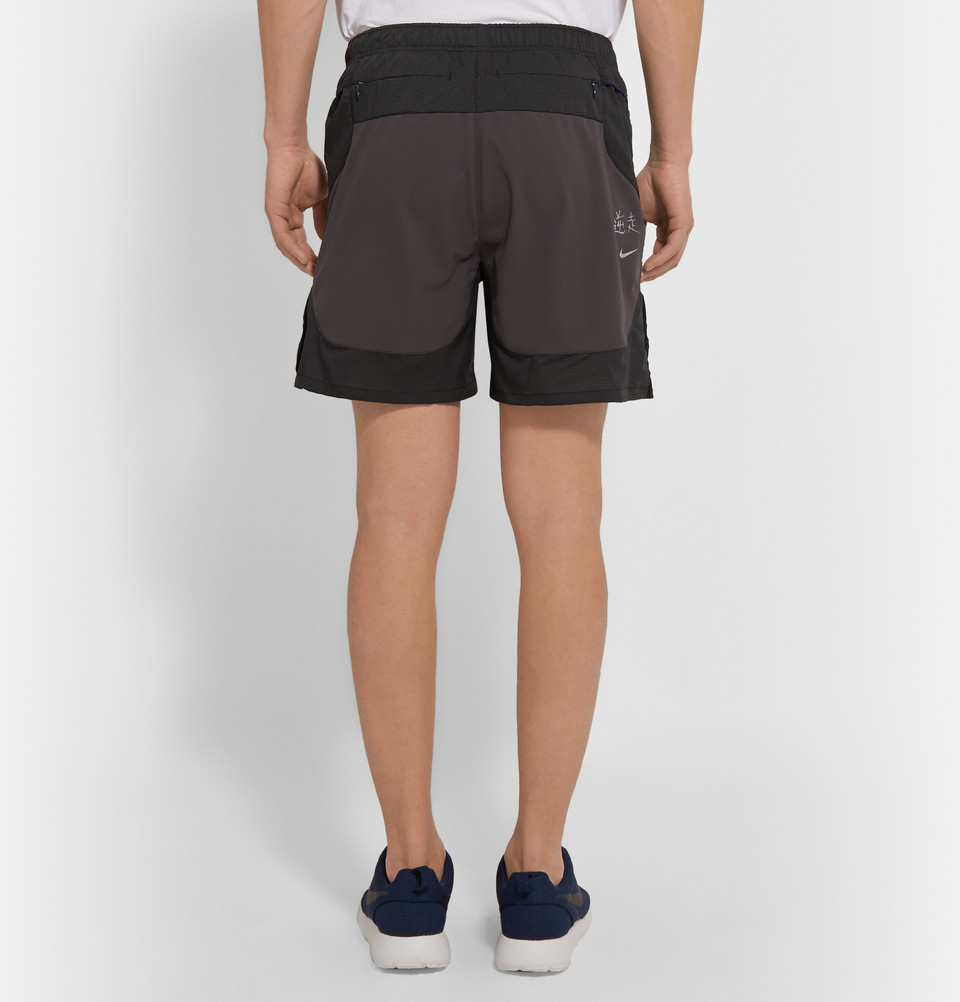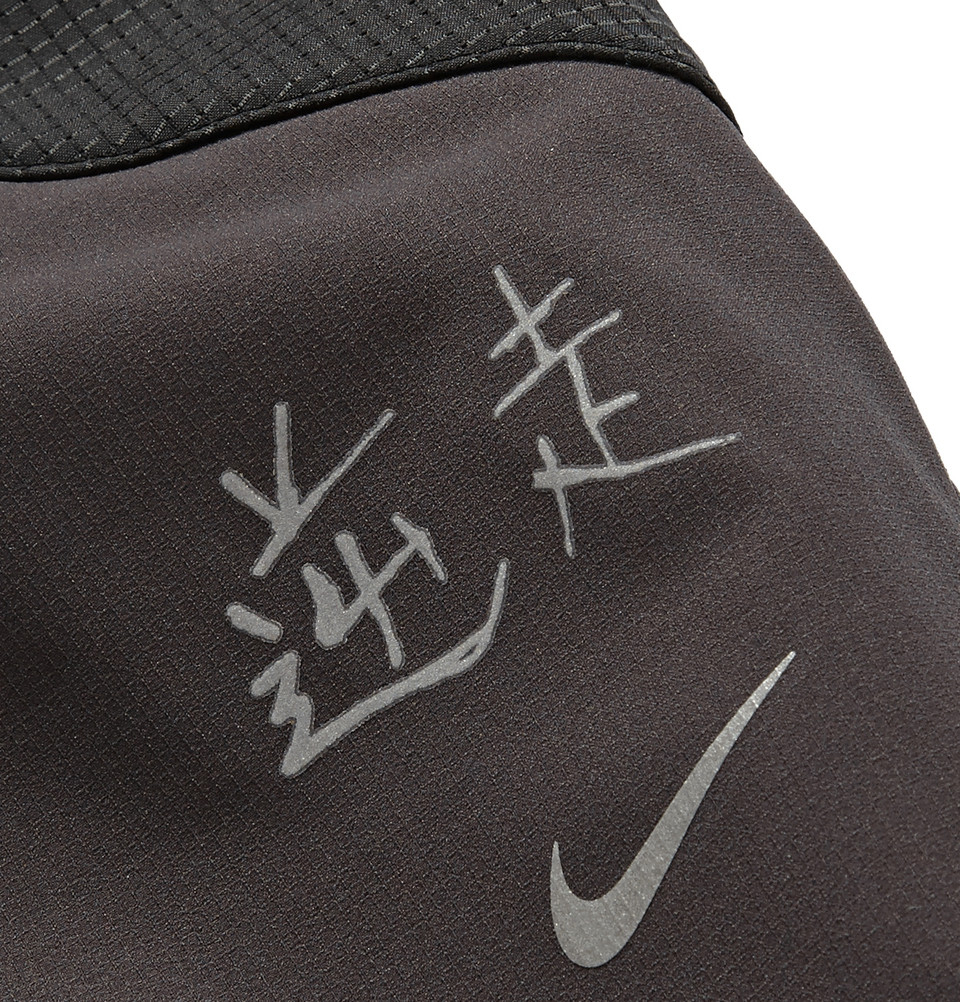 Now, what you're probably thinking is, "This seems wrong. Other companies have solved this problem, or there's something similar on the market." With only one partial exception, actually, they haven't, and there isn't.
After sorting each retailer's site by most expensive to least expensive - making the assumption that higher-end design and features would only be present on the most pricey items - the only shorts on the market that even come close are the Under Armor Sportswear (UAS) Pivot Stretch Crepe Shorts; UAS is Under Amour's upper tier label designed to compete with companies like Lululemon and Outdoor Voices. With front zip pockets and two rear welt zip pockets, it's the next best alternative, though how they fit, breathability and the like, we can't speak to, and those rear pockets still hang awfully low to hold something with the weight of a phone without a lot of bouncing.
Options from Nike (one, two) Lululemon (one, two - the "Sweaty Hand Patch" on these Lulu shorts is the most ridiculous feature we saw), Satisfy Running, Outdoor Voices and Brooks (not sure what the model is indicating by holding a loose, single key next to his pocket - "Yes, this will fall out of here?") all don't hold a candle - or a cell phone - to the SS15 Nike Gyakusou shorts.
Sadly, the design of Nike's collaborative shorts has changed in subsequent releases, but here's to the power of knowing that the perfect athletic shorts do exist. You're just too late to own them yourself.